This rates as one of the best performance enhancements I've done to the car. It was a full day of instruction at Prodrive's test facility near Kenilworth, Warwickshire. There were 3 elements to the day, each of which was done twice:
Skid pan
This was all about provoking the rear to break away and to find out how you could correct and manage the slide with throttle input and opposite lock. I spun the car a lot! Eventually I was able to get the car to fish tale down the length of the skid pan when I learned how fast you needed to be with applying the lock. Essentially you had to apply opposite lock as soon as the the tail broke away. Great fun but very difficult.
Short track
A very twisty and narrow track which didn't allow you to use more than 3rd gear. This taught us the importance of positioning the car so that it was set up for following corners i.e. thinking ahead. It also taught us that sometimes it's possible to find one line through a complex of corners. Once found the complex could be treated as one bend, therefore eliminating some braking points to make the quickest progress. By positioning the car in the correct place of a complex of corners it was amazing how quickly you can get on the power to obtain a fast exit speed. We were also shown the benefit of using lift off oversteer to make the best progress through tight hairpin bends.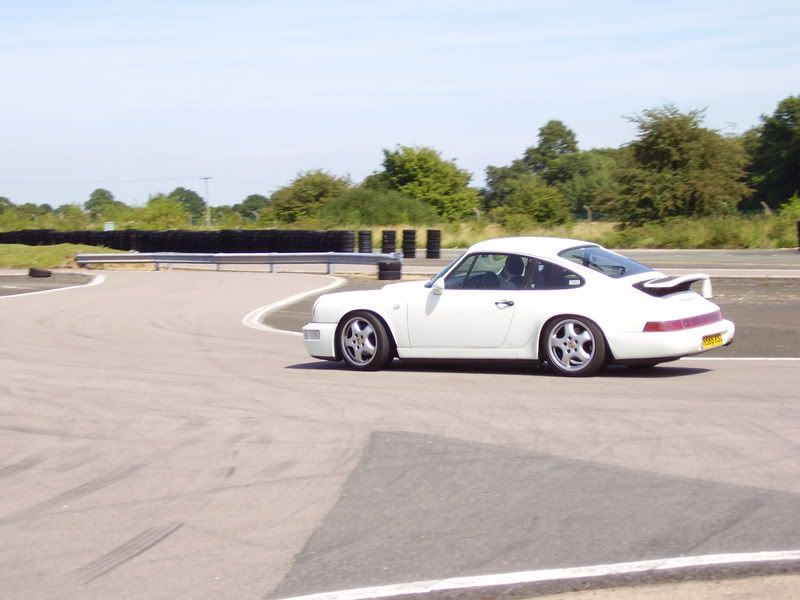 High speed track
This was about putting everything learned on the short track into practice at high speed. The track allowed speeds well in excess of 100 mph to be obtained. Here again we learned about using vision to find the racing lines. Yet again I was shocked how quickly I could get on to the power once the car had been set on the right line and steadied on the brakes prior to turn in. I was cornering at speeds I've never done before and for the first time experienced the car close to its limits (as evidenced by some nice drifting around the fastest bend while travelling at 3 figures). I also learned that for corners requiring down shifts that the gear changes should be done in the first 3rd of the braking zone, with a very quick but smooth action. This helps keep the revs up for when you turn in (again allowing you to have early power and drive through the corner).
It was one instructor to two people all day. This worked really well because after 10 high speed laps you needed a breather before moving on to the next session.
The car behaved beautifully all day. Most of the instructors hadn't driven a 964 before and each commented about the high grip levels the car had. One commented, "this car is ballistic considering it's age!"