This weekend consisted of some basic repairs and maintenance. A bit boring but I suppose that's what a running report is about.
First off was to put some of the Halfords brighter H4 bulbs in the headlamps. £14.99 for two bulbs since they were on a bogof offer. The headlamps haven't been off for quite some time by the looks of it. Although nice and dry inside the bowls were loose because a lot of the retaining wires had shaken loose. Of more concern was that one of the aim adjusters was completely disconnected. This is now remedied but I'll need to drop the car into a local MOT station to have the beam alignment re-set.
Since I've had the car the passenger window has not worked properly (as just about every passenger has told me). It would only drop a couple of inches. The switch and motor seemed to be OK so the only way to find out what was going on was to strip the door down. Like any old car you never know what you're going to find lurking behind a trim panel. Sure enough the membrane (the old polythene type) had been butchered in a previous life and the doors were full of cr@p inside: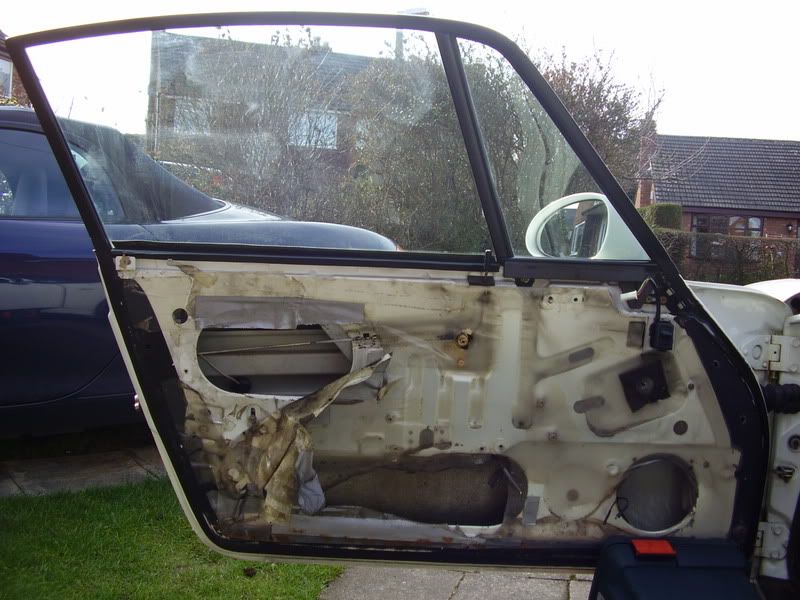 The problem with the window turned out to be the alignment of the glass carrier. A few subtle adjustments with an allen key and some grease on the carrier runners soon had it working properly. Then it was a simple job of cleaning it all up and putting some fresh duck tape over all the holes in the membrane. I'll probably put a new membrane on in the future but since the edges of the membrane have never been lifted there's no problem with water leaking into the car at the moment.
Then I took it out for the obligatory test drive to check all was well.