I had the opportunity to weigh the car last week. While visitig Oulton Park I sneaked onto the weigh bridge in the scrutineering bay. This is an old fashioned balance beam where you slide along the weights until it balances. A bit like weighing a sack of potatoes!
Anyway, even with rear seats, undertray, footwell sound proofing and air con all removed and Recaro PPs in place of standard seats, with half a tank of fuel she came out at 1315 Kg. A standard 964C2 is supposed to weigh 1350Kg without options. Many (including mine) weighed a good deal more because of options like aircon and heavy sports seats. So all in all I'm pretty happy with the lighter weight.
For the record my friend's 964RS (complete with roll cage and a more fuel) came out at 1265 Kg.
This week (Tuesday) it was time to go to the PCGB trackday at Silverstone. The day started with some sighting laps. It was dry at the time and they were the fastest sighting laps I've been on! In each case an instructor would drive one of the participants cars and lead a group of six cars around the track. Ours seemed to get a bit carried away as we had to get up to nearly 120 mph down the Hangar straight to keep up with him!. This meant that it was almost impossible to learn any of his lines!
By the time we were ready to go open pitlane the rain came down and the track was soon very slippery....especially since a few days earlier the Silverstone Classic cars had left plenty of oil and rubber on the track! This was an ideal time to go and learn the lines that were too difficult to spot on the sighting laps. Even on the part worn toyo R888s the car had pretty good grip but it would break traction at the rear when I was a bit too keen on the throttle. Good fun and loads of track space owing to not many others venturing out. Brother Pete was there in his 997C4S cab - the traction he had in the wet due to the 4WD was astonishing and I would say that there were few quicker cars out there in the rain.
By the time lunch came the track was drying fast. By the afternoon session it was completely dry and we all got lots of laps in and consequently went faster and faster. The speedo was brushing against the 130 mph mark at the end of the Hangar straight before I braked (always early) for Stowe corner. The concerns over brake shudder I had at Oulton, I'm pleased to say have gone since fitting the new discs and pads. I managed just under 150 track miles on the day, used hardly any oil and the car ran without a hitch :) .
A few pics from the day: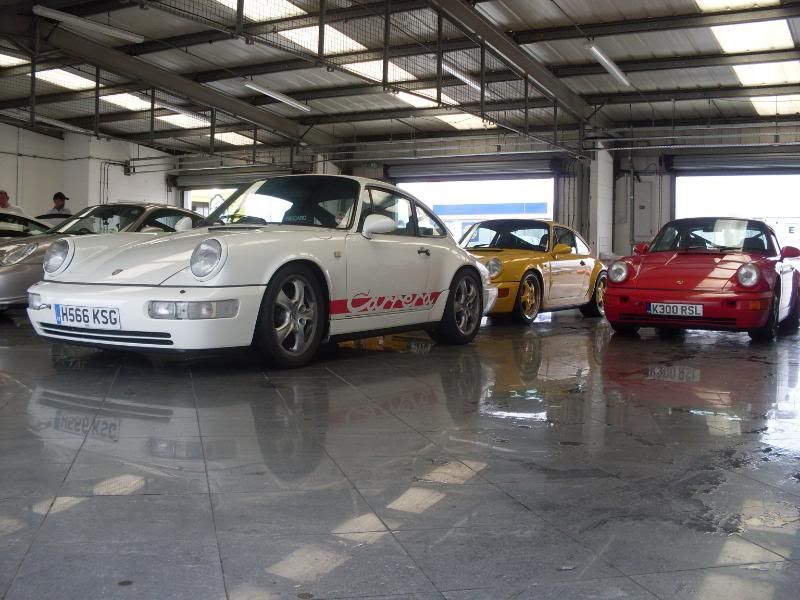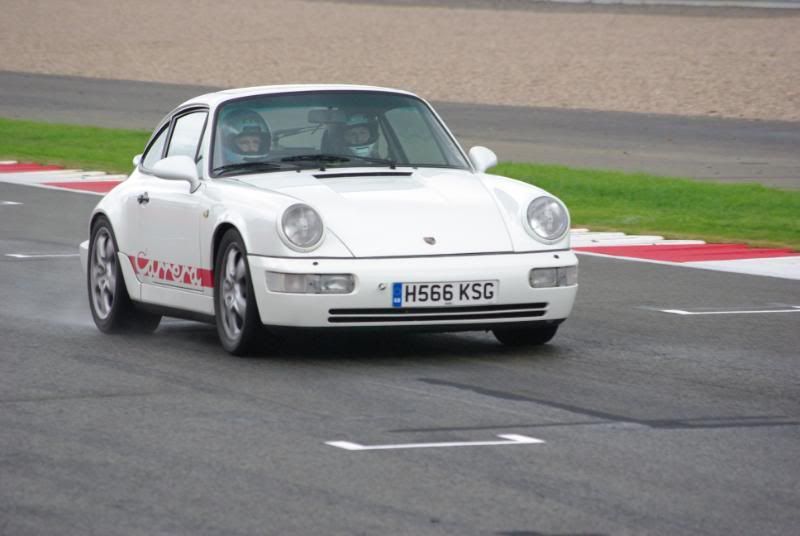 Here's a video of me chasing Pete's 997:
Here's a fun video of some other people's antics on track:
Video of the last session....GT3s are pretty common in this one
According to the video timings the best laps I did were something like 2' 40. In the dry I never get anywhere near the limit of the grip of the tyres but I'm still pretty pleased with the pace I went round: