The car came to me with the original fitment Boge shock absorbers albeit that the rear shocks had been replaced and shorter springs had been put on to the lower the car. Changing the suspension had always been planned. When it was time, I wanted it to be replaced with something more suitable for the track.
Putting new suspension on something I decided to leave to the experts. Luckily up here we have one of the highly regarded experts in aircooled 911s, Jonny Holland of Unit 11 Warrington. Jonny recommended without hesitation that I should have KW Variant 3 fitted, so that's what I got.
Front:
Rear: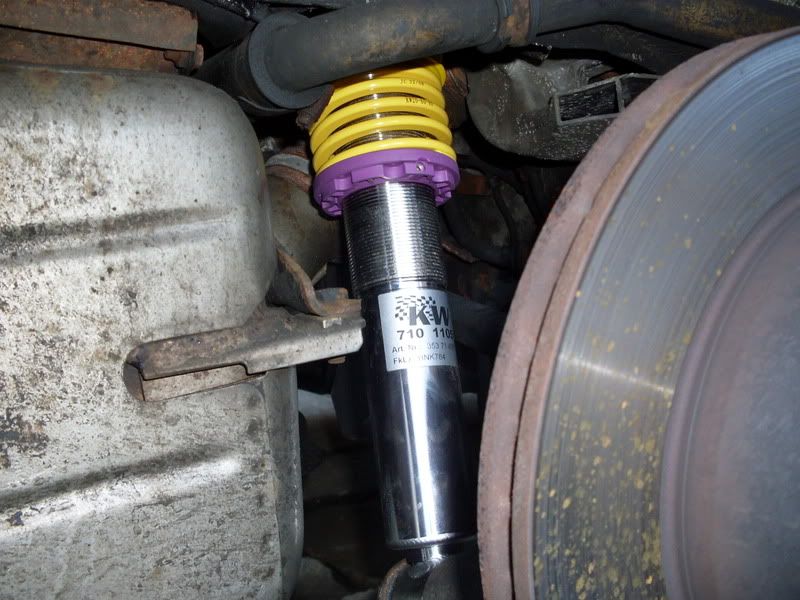 At the same time I had them replace the aging rubber wishbone bushes with the newer polyurethane (super flex) bushes:
Of course having all this done requires a full geo on the car which was carried out by Jonny's colleague, Danny who used to set up 911s for the track when working at Tech9 in Liverpool. The car's ride height has been dropped to near 964RS specs and the appropriate negative camber applied and the castor and toe set to make the car sharper in the handling department. The car now has a very agressive nose down stance:
Out on the road the handling has been transformed beyond my greatest expectations. The nervousness of the front end has gone which is noticeable both while driving at high speed in a straight line and when driving on bumpy roads, where it used to dart about when unsettled by a bump. Turning is now sharp and quick and inspires me with the confidence to drive it swiftly. And while the adjustable bump and rebound is set to medium the ride is still very comfortable on the old bones.
Another job I had tacked on while the car was at Unit 11 was to have them weld a brace to the engine carrier and have it powder coated. The brace was bought from Rennline in the USA and is there to guard against he possibility of the carrier snapping when driving the car hard on track. A snapped carrier would lead to an engine dragging on the floor!
A picture of the brace and with it welded to the engine carrier (black bar in the pic):